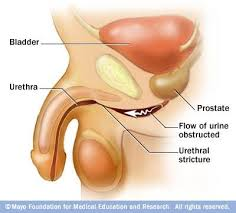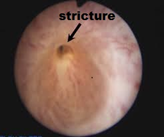 Urethral strictures can occur from an infection or more commonly, injury during catheterisation or endoscopic surgery. Urethrotomy is a procedure to divide the scar tissue that is causing the narrowing.
The diagnosis is easily made from the uroflow which show a "box-like" pattern.
The location and length of the stricture can be determined from an ascending urethrogram xray.
The surgery is done under general anaesthesia using a knife loaded onto a cystoscope (optical urethrotome) with or without serial dilators.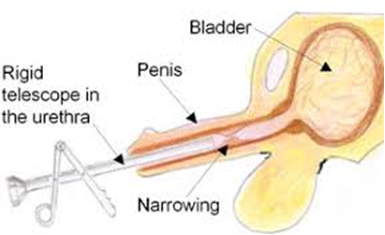 The problem with urethra strictures is recurrence. To prevent this, a catheter may have to be left in for a period of time. Patients may also have to do daily self-dilatation for a period of 1 to 3 months. Frequent recurrences would require urethroplasty surgery which is more complicated to do.
Complications include:
bleeding. If active, compression of the penis will be needed. The bleeding can last up to a week.
urine infection. This will cause fever and painful / frequent urination.
recurrence of stricture. This tends to occur within 2 to 3 weeks. If it does, then repeat surgery is needed. Daily self-dilatation with 14F Nelaton catheter can help prevent this.
Desired outcomes:
minimal bleed
no recurrence