Specialist in Cancer, Incontinence & Robotic Surgery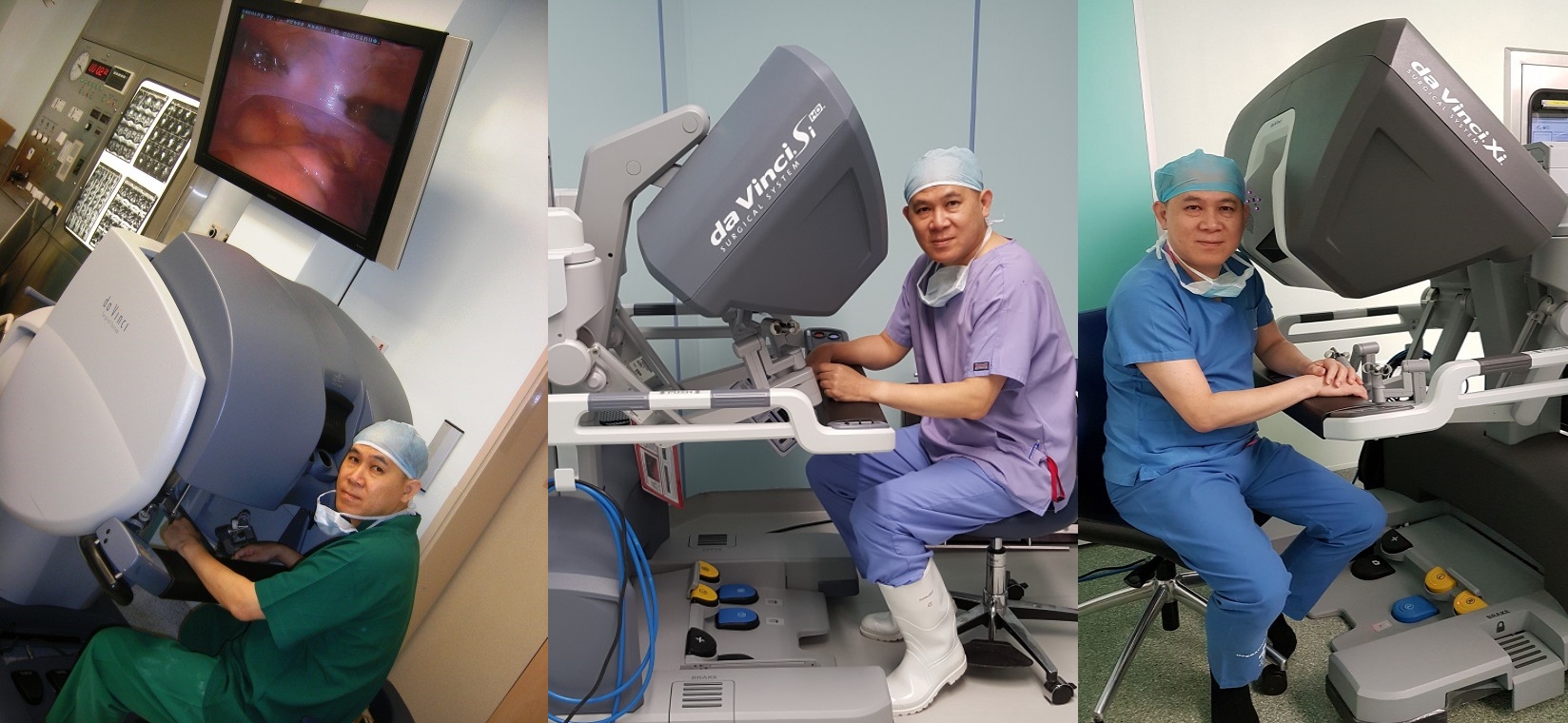 Dr Chin Chong Min
MBBS (S'pore), MMed (Surg), FRCS (Edin), FRCS (Glasg), FAMS (Urol)
Senior Consultant Urologist, Mt Elizabeth Novena Specialist Centre
Adjunct Associate Professor, National University of Singapore
Visiting Consultant Urologist, National University Hospital
Visiting Consultant Urologist, Changi General Hospital
Life Member, Singapore Urological Association
Life Member, Society for Continence (Singapore)
Life Member, Society for Men's Health (Singapore)

Member, Robotic Surgery Society of Singapore
Current Position
Dr Chin is a Senior Consultant Urologist of 30 years experience who is based at Mt Elizabeth Novena Hospital (MNH). He is also Adjunct Associate Professor in the Department of Surgery at National University of Singapore (NUS) where he is a clinical tutor and examiner for the final year Medical and Dental students at the Yong Loo Lin School of Medicine. He is also Visiting Consultant to the Department of Urology at National University Hospital (NUH) and Changi General Hospital (CGH).
Qualifications

Dr Chin graduated from the National University of Singapore (NUS) in 1986. In 1991, he passed the surgery fellowship exams at the Royal Colleges of Surgeons of Glasgow (FRCSG), Edinburgh (FRCSE) as well as the Masters of Medicine (MMed) degree from NUS. His subspecialty training was at Bristol Urological Institute (BUI) in the United Kingdom (1996-1997), where he majored in oncology, incontinence and urodynamics.
Expertise

Dr Chin is renowned for his surgical expertise in urinary cancers, i.e. kidney, bladder, prostate and testis. He is accredited to perform laparoscopic and robotic surgery. He did his Robotic Urology residency program in 2005 at University of California, Irvine in the USA. He is now a proctor for robotic surgery and is the first urologist in Singapore to be conversant with all 3 da Vinci robotic systems (viz. Standard, Si and Xi). He demonstrated the latest da Vinci Xi robot to The Straits Times; the story was featured in pages B6 + B7 of ST (27 June 2022) and the interactive video can be watched from the link: https://www.straitstimes.com/singapore/interactive-how-robots-are-changing-surgery.
a) Cancer & Robotic Surgery
i) Prostate cancer: Dr Chin has been doing robotic prostatectomy since 2005. His experience now spans more than 1000 cases. His usual surgery time is 2 hours. The largest cancerous prostate he has removed is 120 gm, with the youngest patient being 42 years old.
ii) Kidney cancer: He is conversant with open, laparoscopic and robotic methods. He did the first robotic partial nephrectomy in 2005 and has since done more than 60 cases without any case converted to open or total removal. His average surgery time is 3 hours; the fastest being 1 hr 25 mins. The largest kidney tumour he has removed is 6.5 cm. He is also familiar with retroperitoneal approach which is better suited for tumours located at the posterior aspect of the kidney.
iii) Bladder cancer: While majority of bladder cancers are removed endoscopically (TURBT), advanced cancers require removing the whole bladder (radical cystectomy). Classically, this is done via open surgery. In 2010, Dr Chin did his first radical cystectomy using the da Vinci robot.
Dr Chin's Milestones in Robotic Surgery
2005: Did the 1st robotic partial nephrectomy on the da Vinci standard robot in Mt Elizabeth Hospital (MEH)
2008: Did the 1st robotic prostatectomy at NUH
2010: Did the 1st robotic radical cystectomy at MEH
2013: Did the 1st robotic prostatectomy and 1st robotic pyeloplasty on the da Vinci Si robot at MNH
2013: Did the 1st robotic adrenalectomy in Singapore in an operative time of 1 hour. As this was also the very first case in Singapore, the story was featured in the main local newspaper (Straits Times, 3 October 2013)
2014: Did the 1st robotic radical cystectomy with continent neobladder at MNH
2015: Proctored the 1st robotic prostatectomy on the da Vinci Xi robot at CGH
2016: Assisted in his 1st robotic gynaecologic surgery at MNH
2017: Assisted in his 1st robotic liver surgery at MNH
2020: Did his 1st retroperitoneal robotic partial nephrectomy at CGH
2021: Did his 1st robotic nephroureterectomy at MNH
2021: Did the 1st retroperitoneal robotic partial nephrectomy at Mt Alvernia Hospital (MAH)
2022: Did the 1st

 robotic prostatectomy on Xi robot in MNH

2022: Did the 1st robotic nephroureterectomy at MAH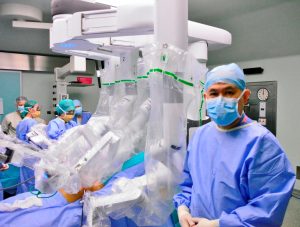 Dr Chin's expertise in robotic surgery is featured in the media, from newspapers to magazines and television, both local and foreign. On 6 April 2011, Channel News Asia featured him as one of 'The Specialist' in robotic surgery. He has even developed his own techniques in robotic prostatectomy and in February 2012, presented two videos of his original techniques at the prestigious 27th European Association of Urology (EAU) Congress in Paris.
b) Bladder Dysfunction & Incontinence

His other area of expertise is in bladder disorders, i.e. bladder dysfunction, urinary incontinence. He has collaborated in many research projects on bladder dysfunction, ranging from clinical to pharmacological trials, epidemiological surveys and animal experiments. He is author of the 2nd edition of Clinical Handbook on Management of Incontinence (2001) and chairman of the committee which drafted the Clinical Practice Guidelines on 'Management of Urinary Incontinence' (2008). In the field of female urology, he is amongst the first urologist to perform Tension-free Vaginal Tape (both TVT and TVT-O) surgery, a minimally-invasive procedure to correct stress incontinence in women. He has done more than 100 TVT cases since 1999, and is a designated preceptor for sling surgery.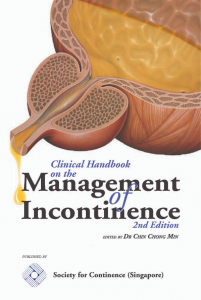 c) Endourology & Stones
In the endoscopic management of urinary stones, he is experienced in percutaneous nephrolithotripsy (PCNL) and laser ureteroscopy. In 2001, he presented a video of his original technique of stone laser within a basket at the 19th World Congress of Endourology in Bangkok.
Academia

Dr Chin's publications include 23 peer-reviewed papers, 5 book chapters, and a book on Urinary Incontinence. He has presented his research and clinical work at various international congresses and lectured in many countries, including Malaysia, Indonesia, Thailand, China, Hong Kong, Vietnam, Cambodia, Philippines, Sri Lanka, Bangladesh and Russia. He is also a reviewer for the medical journal, Annals, Academy of Medicine, Singapore and examiner for the Urology Residency Annual Assessment.
An active member of the Singapore Urological Association, he held the positions of Vice-President (2007-2008), Honorary Treasurer (2003-2004), Chairman of the Incontinence Subcommittee (2001-2008) and Research Subcommittee (2004-2006).  Over the years, he has organized some 10 scientific meetings and workshops, and public education events like prostate awareness week, continence day, and men's health symposiums.
Community Work
Dr Chin has been involved in community work since 1998. In 2018, he received the 20-year Long Service Award for his contribution in Marine Parade constituency.